Marquis Brown
Marquis Brown is a Senior Mass Communications major.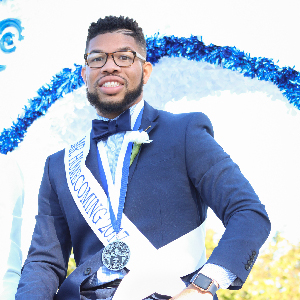 "FSU is a campus that you can call home."
What is the one thing you'd like prospective students to know about FSU?
FSU is a campus that you can call home. I recall how nervous I was during my freshman year, and to my surprise everyone happened to be so friendly. Everywhere you go you are greeted with a smile and friendly wave. The people at FSU make being away from home a breeze.

How has your extracurricular involvement at FSU impacted your overall student experience?
Being involved in organizations such as "It is Finished" Campus Ministry, The Collegiate 100 and of course a brother of the Epsilon Zeta Chapter of Alpha Phi Alpha Fraternity Inc. , I have been able to connect with a great amount of the overall student population. I know just about everyone and they know or have heard of me. Overall, there has been a lot of love shown, and I can truly say that many friendships as well as connections have been made. To sum it all up , my involvement on campus helped me to become Fayetteville State Homecoming King 2017.
What is your passion?
My passion has always been poring positivity into others lives. All of my friends have known me to be the one who always has some wisdom to share. I feel that it is imperative to uplift our fellow neighbor and that we encourage each other along the way.
What are your plans for the future?
Upon my graduation I plan to attend Officer candidate school, to become an Intelligence officer in the United States Navy. Following my retirement from the Navy, I will go into inspirational speaking, as well as a traveling Prophet.