FSU Grad's Play Featured in NYC Festival
Fayetteville State University graduate Breana C. Venablé always knew that she wanted to be a performer. Originally, she planned to become an actress, performing on stage, but while at FSU, she began writing plays, and has now found her passion as a playwright.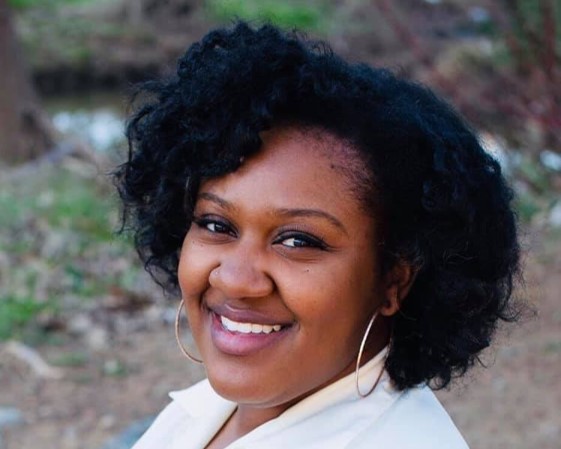 Fayetteville State University graduate Breana C. Venablé always knew that she wanted to be a performer. Originally, she planned to become an actress, performing on stage, but while at FSU, she began writing plays, and has now found her passion as a playwright. Venablé was recently chosen to showcase her work as a playwright at a festival in New York City.

Venablé graduated in 2012 with a Bachelor of Arts in Speech and Theatre. After graduating, she continued her education at Hollins University in Virginia, where she earned her Master of Fine Arts in Playwriting. She currently lives in Charlotte, NC and works as a middle school theater teacher but with a passion for writing, she focuses much of her spare time on writing plays and continues to act as well.

Venablé was involved in numerous activities during her time at Fayetteville State. She was involved in student government, was a Bronco cheerleader, a Bronco ambassador, was in the Black Millennium Modeling Club, and was also a part of the Future Alumni Association. Originally a Psychology major, she spent a lot of time in the theater department working on productions and averaged three or four productions a year. Eventually she switched her major to theater.

"My time at FSU was the best time of my life. It was a wake-up call for me. I say that because I went to a predominantly white high school so I was the only black female in my senior class," Venablé said. "I didn't see myself. At FSU everyone looked like me and that was exciting. My professors were driving forces to push me and encourage me."

Several of Venablé's professors played a pivotal role in her development as a performer and specifically as a playwright. Professor Phoebe Hall told Venablé that she was a great actor but that she was gifted in writing and should consider playwriting. She also encouraged her to attend graduate school for playwriting. The rest fell into place. Professor Susan Pascal (now Herrick) also played an important role in Venablé's time at FSU. Venablé continues to draw encouragement from those who invested in her at FSU.

"When I was in graduate school, my computer broke and Professor Herrick sent me a new computer," Venablé said. "The message said, 'Keep writing, kid!'- I think about that all the time when I write and use it now."

Venablé is constantly writing and working on getting her plays performed through different companies and festivals. She came across an application for the New Perspectives Theater Company in Midtown in New York City and put in an application to write a play for a summer festival which would feature submissions of plays, all from female playwrights and directors.

"This was an environment of all women artists. Normally, if I am not the only black woman in the room, I might be the only woman, so this was exciting. I would be valued and heard and that was appealing," Venablé said.

She submitted her application for the festival and received a call before the finalists were chosen and interviewed asking if she would be willing and able to commit to a monthly meeting in New York City until the festival this summer. She agreed, went for an interview, and was selected to be part of the festival.

The festival ran from August 5-10th. Venablé went to New York City each month since she was chosen to be part of the working group of those selected to workshop their plays, update drafts, and get feedback from the others in the group. She was assigned a director and auditioned actors.

Her play The Abundance of the Heart focuses on the racism in the healthcare system and the pain black women go through.

"One big issue we face right now is black mothers and their mortality rate is double than any other race," Venablé said. "My play is about a mother who is having a heart attack but isn't being listened to - there are studies that show black women are not getting fair or proper treatment. It is systemic racism."

Being a part of this festival gave Venablé confidence as a playwright and has also gave her confidence to share her voice.

"It is the most joyous moment. I don't have to shy away from talking about women or black issues. I get to do both at the same time," Venablé said. "In grad school I shied away from telling black stories - I was in a loving environment and respected and supported there but there weren't a lot of people who looked like me. There weren't a lot of black actors to do my work. Sometimes I felt like I had to whitewash my work. To be able to share this experience, about black women, the most disrespected group, I feel honored to be able to do this. It is an amazing feeling."

The festival included six women playwrights and will included women involved as producers and directors. Venablé said it is a diverse group of women of different ethnicities and ages, each telling different stories from different perspectives.

Venablé was excited to share her work during the festival and said family and friends traveled to New York City to see it in August.

Venablé plans to down from her teaching role and plans to move to New York City or Los Angeles to pursue playwriting and screenwriting full time. She is currently applying for fellowships.

"I want to be a filmmaker. I want to give space for black writers and artists and I want to continue to share and write the black experience where our stories are being told from the proper perspective," Venablé said. "If you only see black people in a certain role, you will only write what you know, and our community is so diverse. We are more than cinematic stereotypes and I want to be in a position where I am creating space and defying stereotypes and allowing young people to come up and become the next actors, directors, and screenwriters to come up and make space for them to share."

Venablé has encouraging words for current students at FSU and in the theater department.

"I want them to know it is OK to pursue their dreams. I didn't think I could. I want them to know and believe it is OK to give your all to your dreams, to make your dreams a reality and to give yourself permission to do it," Venablé said. "You don't have to fit into societal norms and if that is pursuing dreams as an actor, then do it. Pursue your dream -- Full steam ahead."
Written by Summer Kuhlman