Marquell Turner-Gilchrist
Marquell Turner-Gilchrist graduated from Fayetteville State in 2009. Originally from Johnsonville, NC, Turner-Gilchrist currently resides in Doha, Qatar for his job as a buyer for the men's clothing line Ali Bin Ali.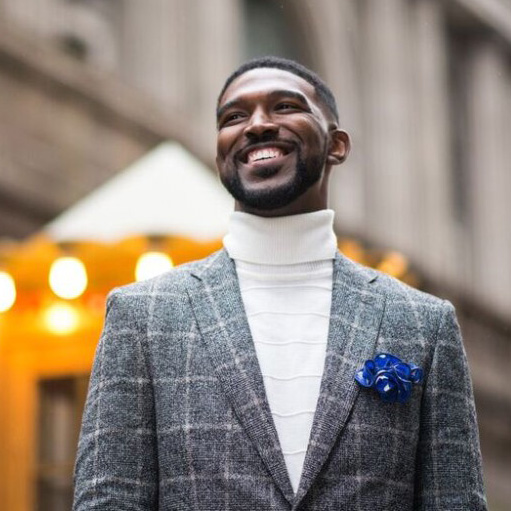 After not wanting to go to college at all, Turner-Gilchrist took a chance and attended Fayetteville State and has since carved out a successful career in the fashion industry and has been able to travel and see the world. He's come a long way from the small town that had one stop light.
While growing up, Turner-Gilchrist had his heart set on becoming a famous singer and joked that he didn't need a college degree to learn how to sign autographs. His parents encouraged him to go to college and after a visit to FSU, he decided to take a chance. Turner-Gilchrist graduated from FSU with a Bachelor of Science in Business Administration with a concentration in Marketing. While at FSU, Turner-Gilchrist was a part of several groups including the Honors Program, the Marketing Club, Volunteer Chair of Phi Beta Lambda, and Fashion Coordinator of Black Millennium Modeling Club, among others."
FSU's impact on my life is lasting and still permeates in many of the things I do today. While at FSU, I learned the importance of civic engagement, building meaningful relationships, and understanding that credibility is built through deeds and not words. I'm forever grateful for those four years I spent at FSU because they were also my formative years as I transitioned from a teen to a young man," Turner-Gilchrist said.
Those years at FSU helped give Turner-Gilchrist the confidence and drive to go after his dreams. Following graduation, he worked in retail while he took time to explore his passions and career opportunities to better understand if he wanted to work in the fashion industry. While working at Saks Fifth Avenue in Raleigh, NC as a Brand Ambassador, he was mentored by the Marketing Director. He ended up attending a lecture she was doing as part of a graduate program in luxury management at NC State."
I decided to go along and fell in love when I found out the graduate program was a dual-degree program split between NC State University and SKEMA Business School in Sophia Antipolis France (South of France). I enrolled into that program in the Fall of 2013 and finished the program after I completed a research thesis called "Men Do Wear Menswear" at the end of the summer of 2014," Turner-Gilchrist said.He graduated from NC State with a Master of Global Innovation Management with a focus on Global Luxury Management and from SKEMA Business School with a Master of Science in Global Luxury Management.
Following his studies, he moved to upstate New York for a brief period but was unhappy in his job and was eventually fired. Now looking back, he said it ended up being one of the best things that happened to him. He had always wanted to live in New York City and he finally took a chance.
"I moved to New York City with no money and no true job prospects but with a lot of ambition and hope," Turner-Gilchrist said. "I reached out to a connection from LinkedIn who, at the time, was the Senior Vice President of Merchandising for HUGO BOSS (HB). He agreed to sit and meet with me to give me a bit of insight to break into the industry. He later became my mentor."
Eyeing an assistant buyer position at HB prior to his meeting, he prepared for the meeting by researching the company in detail with the hopes that the meeting could turn into an interview. It did and the interview turned into an opportunity to transition into buying.
Landing the position as assistant buyer at HB ended up being the easy part. He had an uphill battle to learn the trade of buying."Many buyers go through an executive development program which teaches them how to be a proper buyer. The typical career track from someone on this path is Merchandising Assistant or Buying Coordinator, Assistant Buyer, Associate Buyer or Junior Buyer, Buyer, Senior Buyer, Divisional Merchandise Manager (Director), Head of Buying or Buying Manager, and then Vice President of Merchandising. I went directly into an Assistant Buyer role and there was a huge learning curve," Turner-Gilchrist said. "I had to learn to retail from the corporate side and all of its functions while learning the culture of a new company and new city. I struggled a lot, but HUGO BOSS had a culture that encouraged curiosity and someone was always available to help when I had questions."Turner-Gilchrist moved to Doha in October 2016 after being recruited by Ali Bin Ali through LinkedIn. He is now the Buyer and Commercial Manager for Men's RTW. He is on a team that's opening four Galleries Lafayette department stores across three countries (Qatar, Kuwait, and Saudi Arabia). His role is to help develop and execute the men's experience. Turner-Gilchrist is flourishing in his position at Ali Bin Ali.
"The most exhilarating thing for a millennial is to have a very broad creative license. I've been given the ticket to bring my experience and taste level to this project and I love that," Turner-Gilchrist said. "I work with a very bright team that focuses on innovation and merging the experiences of NYC, Paris, and London into a market-specific format."
Turner-Gilchrist has also worked on several separate fashion projects throughout his career, some which have been featured in publications.In 2015 he created a project called The New Stereotype (TNS) which highlights and celebrates the many diverse layers of black life in America through fashion, photography, film, and events. After the project was released in July of 2015, it garnered a lot of digital media attention. The project was highlighted several times by Blavity, Black Enterprise, XO Necole, For Harriet, Essence, Centric TV, Empire Life Magazine, and was also highlighted on the national talk show The Real during their "Hot Topics" segment.Turner-Gilchrist was also featured by BET on their first 30 Under 30 list, GQ UK, American Vogue, GQ South Africa, British Vogue, Fashionbeans, Bevel, and Carolina Style Magazine for his style.
Turner-Gilchrist is drawn to the fashion industry and continues to be inspired by the vast culture and diversity around him."I grew up very poor and to this day I am still quite shy. Style allows me to express my creativity without having to put up much effort or to say very much. I see style as an art form and in the depths of my heart, I consider myself a creative," Turner-Gilchrist said.Turner-Gilchrist's personal website where he promotes his style and fashion highlights his motto: PRAY.EAT.STYLE."
A few years ago, a social media friend of mine, Lauren, commented that I was always posting about God, food, and my style. She said, "you're like the movie, Pray Eat Love, but more like Pray Eat Style," Turner-Gilchrist said. "Those words stuck with me and will for the duration of my life. Those words speak to the basis of my life and the things I value and enjoy. I believe in having a solid relationship with God, I love to eat although gastronomy isn't my forte, and it's important to have an intimate relationship with your style and what you choose to put on your body."
Turner-Gilchrist's career has allowed him to travel throughout the world and experience other cultures. He has traveled to Paris, London, Milan, Florence, Rome, Barcelona, Madrid, Lisbon, Portugal, Dubai, Kuwait, and Copenhagen, among other cities in the U.S. and Europe. No matter how far he travels or how far away he is from North Carolina, Turner-Gilchrist hasn't forgotten where he came from or the role that FSU has played in his life.
"FSU means family to me. I haven't been back for a few homecomings but social media has made it much easier to stay connected to my FSU family," Turner-Gilchrist said. "We are a global community and we are authentic in our support of each other."