ZaMetria Wall, '14
FSU racks up SAP success stories: Certification program,
the only one in state,
promotes lucrative careers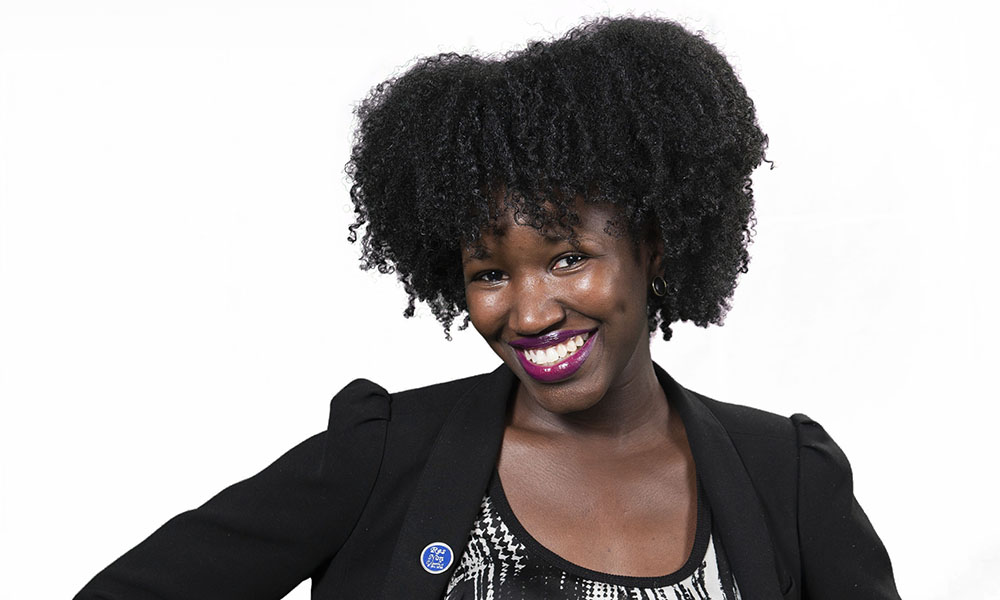 Story by Janet Gibson / Photography by Cindy Burnham
ZaMetria Wall wasn't even thinking about the possibility of securing a new job in the middle of a pandemic, but opportunity came knocking. And her answer was a big "yes."
Because she earned her SAP certification in May 2020, ZaMetria was offered an enviable opportunity with Mann+Hummel, one of the world's largest companies specializing in filtration systems, which are now in especially high demand. Also in high demand: SAP-certified consultants, with starting salaries often in the six figures.
SAP, an acronym for Systems, Applications and Products, is a software program used by top companies - from Amazon to Google - and by the military to track customer and business interactions. FSU is the only university in the state to offer the certification, and the program's unique NextGen Lab is the only one in the Southeast. Professor Murat Adivar in the Broadwell School of Business & Economics helped spearhead SAP at FSU in 2017 and teaches the 18-week immersion, which includes two weeks of "test-prep" boot camp before the final exam.
"I didn't think anyone would be looking to hire during COVID," says ZaMetria, who got an unsolicited phone call on Aug. 2, her 28th birthday, which has led to her new position.
In September, ZaMetria starts as a paid SAP Operations intern with the German-based Mann+Hummel plant in Gastonia, N.C. "I'll be focused on analyzing trends and forecasting using historical data," she says. "To ensure that the company makes money and is not losing any time or resources. And then reporting to department heads."
"This is such a blessing to me and my family," adds ZaMetria, a wife and mom to two young sons. ZaMetria has long been known on campus as "the face of the card office." As an administrative support specialist, she has "literally seen everyone who registers for an ID card."
ZaMetria says she has witnessed firsthand the excellence that is FSU on several levels - as an undergraduate student who earned her Bachelor's degree in Business Administration and Marketing in 2014, as an employee of the university, as a current MBA student (who plans to continue her studies online) - and as one of the select group who have earned their SAP certifications.
When ZaMetria received the phone call about the Mann+Hummel position, on the other line was Joshua Speller, plant manager for the Gastonia facility. Over the past few years, Speller has hired SAP-certified students from FSU for internships and full-time positions. He calls the FSU program "a hidden gem."
"It's not just the technical skills, but the work ethic that the FSU students bring," Speller says. "They are independent, smart and hard-working." Mann+Hummel has 21,000 total employees with facilities on every continent, he says.
Speller had asked Dr. Murat Adivar if he had any SAP-certified students interested in moving to the Charlotte area. ZaMetria, who is originally from Marshville and still has family there, was recommended by Adivar.
Adivar says he was first approached in 2016 about starting the SAP certification program at FSU by former Provost Dr. Pamela Jackson. The program launched the following year, and has attracted a diverse group of students, including undergraduates, MBAs (including students from California and Ohio), those affiliated with the military, and even professors who have traveled from as far away as Pennsylvania.
In an email that ZaMetria penned to Dr. Adivar with the news of her career move, she thanked him and another Business professor, Dr. Burcu Adivar (his wife), who had suggested ZaMetria for the SAP certification program.
"The SAP NextGen Lab/Program and your teaching has truly been a game-changer for me. I have much more confidence in myself knowing I have knowledge and certification in a tool that is used to operate international Fortune 100 companies, and it makes me needed and valued," she wrote.
"I believe she's going to be a great leader," Dr. Murat Adivar responds, "and that's our purpose."