Dr. Clarence E. Lloyd Jr.: Giving By Example
With an academic college to be named in his honor, Dr. Clarence Lloyd, a trailblazing physician, lives his loyalty for his alma mater, FSU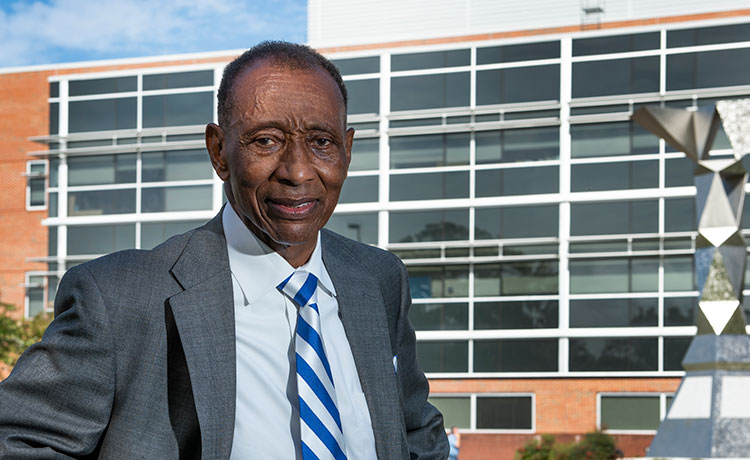 Article by Janet Gibson / Photography by Cindy Burnham
As Dr. Clarence Lloyd walks the campus of his alma mater, Fayetteville State University, students show their reverence with silent nods and smiling eyes, the body language of awe or gratitude. And make a clear path for him.
Who is this dignified man in the dapper gray suit? They may not know for sure - but they sense - that he is special. And they are right.
Dr. Lloyd says he owes much to FSU, where a scholarship and work-study program made it possible for him to earn his undergraduate degree in 1965 and set him on a journey to becoming one of the first Black radiologists in North Carolina. Over the years, Dr. Lloyd has taken "Bronco Pride" and "paying it forward" to new levels with his gifts and actions.
Since graduating, he has missed only one Homecoming game. He is a constant presence at myriad events involving FSU, including reunions and fund-raisers. A self-proclaimed "smart manager of money and investments" - who proudly drove his 1998 Toyota Camry for 487,000 miles - Dr. Lloyd says how he lives empowers how he gives. He has bestowed a total of more than $600,000 to Fayetteville State University.
His first large donation, $100,000, came in 2015. In October 2019, he gave an additional $500,000. That latest gift is earmarked as:
$250,000 endowment
$250,000 annual support, including student scholarships, faculty/staff development, and a speaker series
In December 2019, FSU's Board of Trustees voted to honor him in a special way. This Spring, the Dr. Clarence Lloyd College of Health, Science, and Technology is expected to be officially unveiled in the Lyons Science Building.
"I can't thank Dr. Lloyd enough for his generous support of FSU," said Dr. Peggy Valentine, Interim Chancellor. "He is one of the university's biggest supporters and has consistently given to advance the mission of his alma mater. Dr. Lloyd cares deeply about preparing the next generation of health professionals, and we are very pleased to name the College in his honor."
---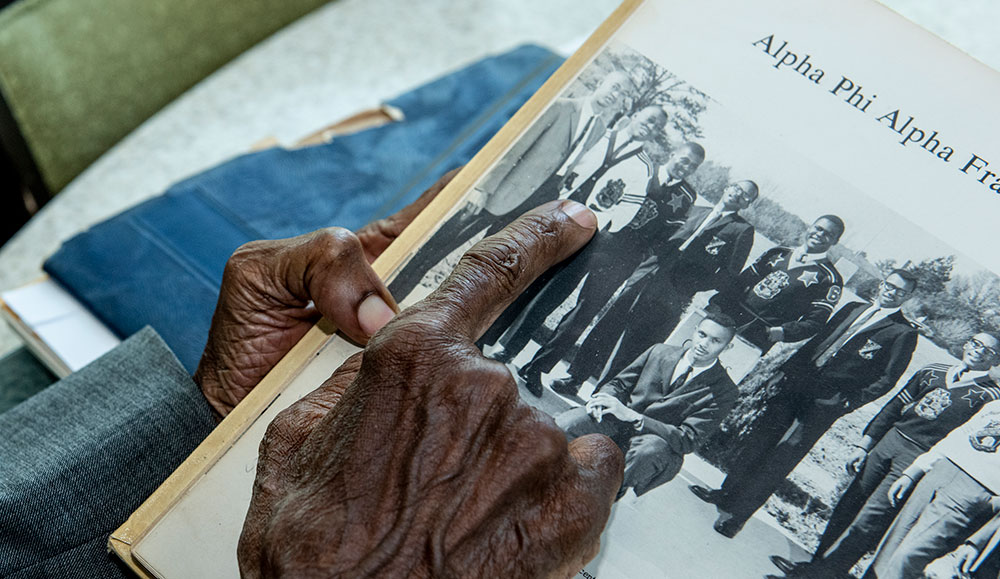 Stroll Down Memory Lane
History unfolds, if only in the imagination, on a stroll down Memory Lane.
"You see over there?" Dr. Lloyd says, pointing to an area near the Rudolph Jones Student Center. "That used to be a laundry. Male students could get five T-shirts, five shorts and five pairs of socks washed every week."
The laundry service was included in the cost of tuition: $500 a year when Dr. Lloyd began his FSU journey in 1961 and $700 when he graduated with 117 other students four years later.
"There were only two male dorms and three or four female dorms. "I believe the freshman girls," he says with a sly smile, "might have had a 7 p.m. curfew."
A Biology major with a minor in Chemistry, he spent a lot of his time "feeding the animals" at the science building. He also joined a fraternity, Alpha Phi Alpha, and was inducted in the honor society Beta Kappa Chi.
Fayetteville State was "a paradise" for the enthusiastic young man from Williamston, a dot on the map in the northeastern corner of the state. The town was a hub of activity during the civil rights movement. He knew many people there who were involved in peaceful protests, one that lasted for 29 consecutive days in June 1963. "I was away at school, also partipating in peaceful marches," he says.
"To me, college was Heaven. Go eat. Feed the animals. Go to class. Out of class. Study. We had steam-heat in the dorm, no getting the wood in for a fire, no walking a mile to school. That was Heaven."
---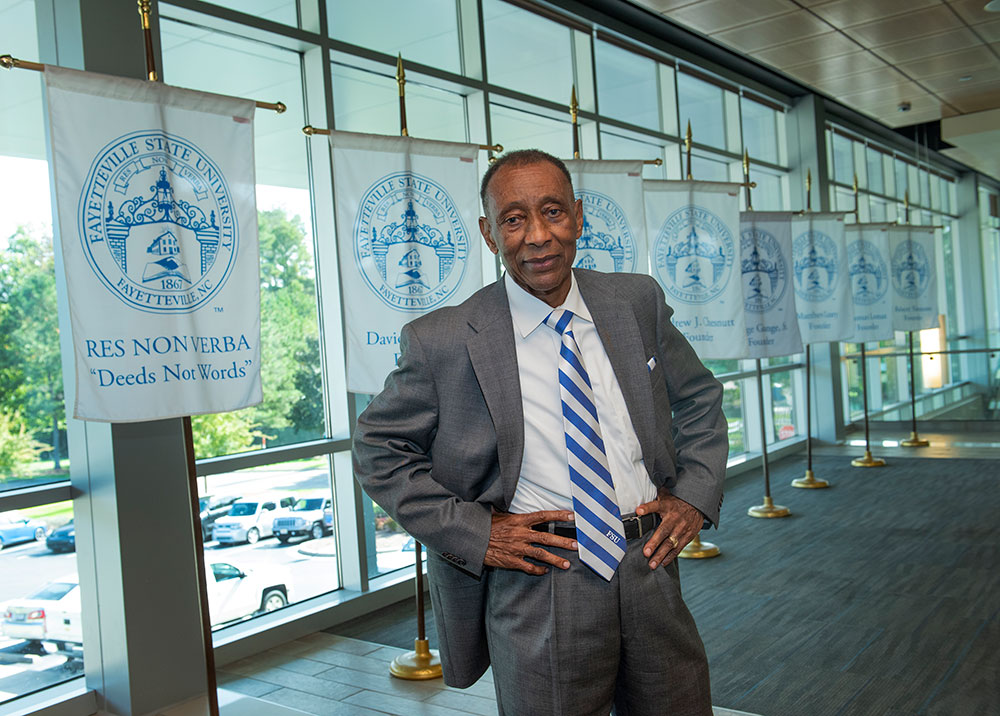 A Life's Journey
Dr. Lloyd describes the home where he grew up as "a cheerful place with seven children and lots of love." His father was a janitor who had a third-grade education, and his mother, who worked as a housekeeper, was able to complete the eighth grade.
"They wanted better for their children," says Dr. Lloyd, "and encouraged education." He was the first in his family to go to college.
All his siblings worked hard and "have done very well for themselves," Dr. Lloyd says, beaming with pride.
After he graduated from FSU, he taught high school for a year in Mount Olive before going to North Carolina Central University, where he would earn his Master's degree in Molecular Biology in 1968. For two years, he taught at Livingstone College in Salisbury before earning his medical degree in 1974 from the University of North Carolina at Chapel Hill. He interned for a year at New Hanover Memorial Hospital in Wilmington. From 1975-78, he specialized in Radiology at Bowman-Gray School of Medicine in Winston-Salem - the first minority to do so.
His father died his senior year of medical school, but his mother lived to see him become a doctor.
He also served in the United States Army Reserves where he participated in Operation Desert Storm and Operation Iraqi Freedom. (Serving oversees is the reason he missed one FSU Homecoming game.) He retired as a Colonel after 20 years.
Dr. Lloyd retired in March 2019 as a longtime, respected radiologist at the Veterans Affairs Medical
Center in Kernersville.
---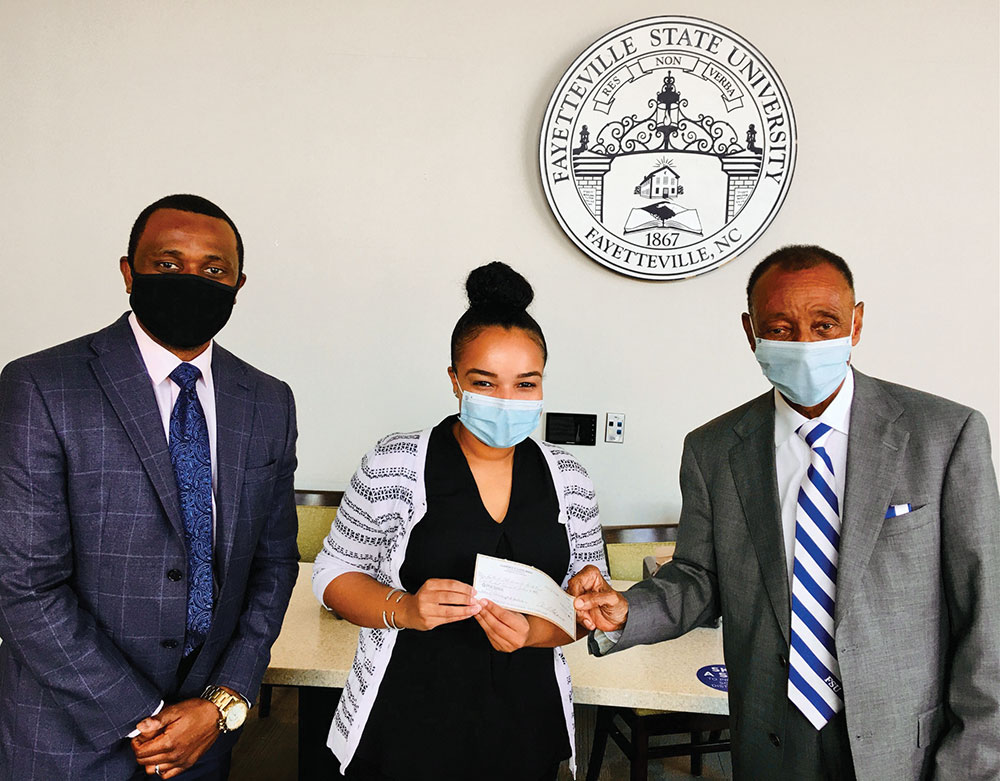 Chris Davis, Associate Vice Chancellor for Development, and Jasmin Sessoms, Interim Director of Alumni Affairs, accept a donation from Dr. Clarence E. Lloyd Jr. Photo by Janet Gibson
Making Money Work For You
Dr. Lloyd never got caught up in the trappings of wealth.
When he was working, he packed his lunch. He has stayed single and never had children of his own but is close to his nieces and nephews. He gets "from Point A to Point B" in a Toyota Camry.
His day starts with meditation, reading the Bible, and several newspapers and financial publications.
"The book 'Rich Dad Poor Dad' changed my attitude about money," he says. His focus became on making his money work for him and began learning everything he could about investing and the stock market.
The lithe Lloyd attributes his vigor to a mostly plant-based diet. He drinks a lot of water, takes vitamins, is an avid jogger in his Greensboro neighborhood, and enjoys playing golf.
Pre-COVID, he took time for vacations - with Tampa, Florida, among his favorite destinations. To see all the sights, he would splurge on a car rental - a shiny convertible Corvette.
Smart decisions regarding his physical and financial health are the reasons why he is able to leave a legacy.
"Anyone can give something, no matter the amount," he says. "Small amounts add up."
Dr. Lloyd says he lives his life by his favorite Scripture: Philippians 4:13: "I can do all things through Christ who strengthens me." His giving philosophy is reflected in Matthew 6:21. "For where your treasure is, there will your heart be also."
A special place in his heart will always belong to FSU.
To enjoy more great FSU stories, read the FS&U Magazine.