Where in the World is … Marquelle Turner-Gilchrist?
"People say the 'F' in FSU is for 'Fayetteville.' But I say it's for 'Family.' There is no other place in the world like it." – Marquelle Turner-Gilchrist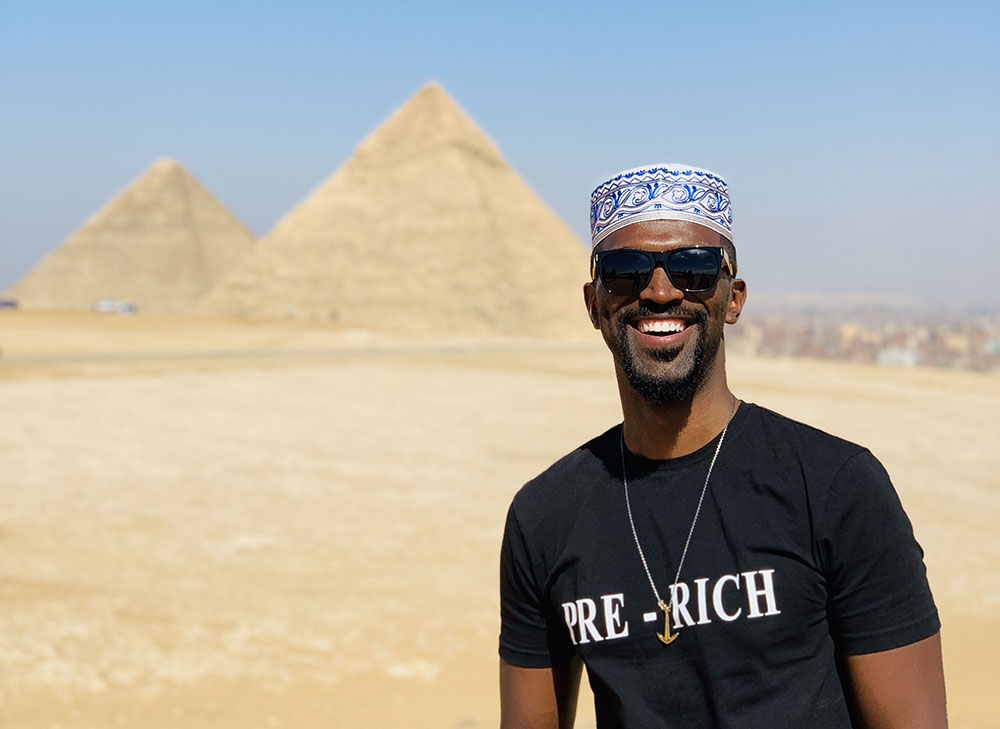 Article by Janet Gibson, Photos Courtesy Of Marquelle Turner-Gilchrist
Fayetteville State University alumnus Marquelle Turner-Gilchrist has surely traveled a million miles from his humble roots in rural Johnsonville, North Carolina to rise and become a global fashion influencer.
And he isn't even close to reaching the top ... yet.
In November 2020, Marquelle assumed the reigns as Merchandising Manager for the Men's Ready-To-Wear division of Gucci Americas Inc., based in New York City. As such, he is instrumental in helping craft the fashion direction and vignettes in stores throughout the U.S. and Canada. The Gucci brand, a favorite of Hollywood celebrities, also puts Marquelle in a prime position to assist in styles for the red carpet (or more likely media interviews via Zoom these days). But in a world where confidentiality is not only revered but expected, he's not divulging any names.
It isn't Marquelle's first Big Apple adventure. But rather a glorious testament to one man's vision and sheer persistence. Professional and personal aspirations have taken him around the world - from NYC to Europe, the Middle East, Africa and Asia - and now back again to the city that stokes his creative soul.
Marquelle's friends and former classmates will tell you that his globe-trotting ways and brushes with fame come as no surprise. He has always stood out as a shining example of extraordinary style, even capturing "Best Dressed" honors at Western Harnett High School. At FSU, the Honors student turned heads and served as Fashion Coordinator of the Black Millennium Modeling Club. In 2009, he earned his Bachelor's degree in Business Administration with a Concentration in Marketing.
"People say the 'F' in FSU is for 'Fayetteville,'" he reflects. "But I say it's for 'Family.' There is no other place in the world like it."
In a phone interview from his from his apartment in Long Island City, a developing neighborhood of Queens, Marquelle reminisces about his journey so far.
Born on April 3, 1987 in Sanford, North Carolina, he grew up just 20 miles down Highway 87 in the one traffic-light town of Johnsonville with his mom and younger sister. Marquelle was shy - still is, he says - and learned early-on that one of the best ways to express his creativity was through his personal style. He loves clothes, shoes and accessories - and wears them well.
He developed a strong work ethic from an early age, so he could buy what he desired and also help his family. At ages 14 and 15, he tutored math after school. From 16 to 22, he balanced his classes with long hours as a "buggy boy" and bagger at his local Food Lion. He originally didn't think that college was in his future - he wanted to be a singer - but his parents encouraged him and after a visit to FSU, he decided to give it a try, and became the first generation in his family to complete college. (In recent years, he added the Gilchrist to his name to honor his mother who raised him. His father, with whom he has strengthened bonds over the years, is a Turner.)
"FSU's impact on my life is lasting and still permeates in many of the things I do today," he says. "I learned the importance of civic engagement, building meaningful relationships, and understanding that credibility is built through deeds and not words. I am forever grateful for those four years."
After graduating, Marquelle started on a strategic path to fulfill his dreams. Bottom line, he was willing to work for $10 an hour in retail. The object was to learn everything he could about the fashion industry - and, especially, about luxury brands. He accepted a position at Saks Fifth Avenue in Raleigh, and within a couple of months, was tapped to be a Brand Ambassador for the store. The Marketing Director there became his mentor, and encouraged him to attend a lecture on a graduate program in luxury management at N.C. State University.
"I found out the graduate program was a dual-degree program split between N.C. State and SKEMA Business School in Sophia Antipolis France (South of France). I enrolled into that program in fall 2013 and finished it after I completed a research thesis called 'Men Do Wear Menswear' at the end of the summer of 2014," Marquelle says. He graduated from N.C. State with a Master's in Global Innovation Management and a focus on Global Luxury Management, plus a Master of Science in Global Luxury Management from SKEMA Business School.
Afterward, he moved to upstate New York for a brief period but was unhappy in his job and got fired. It ended up being a gift in disguise. Marquelle always wanted to live in New York City and he finally made the leap.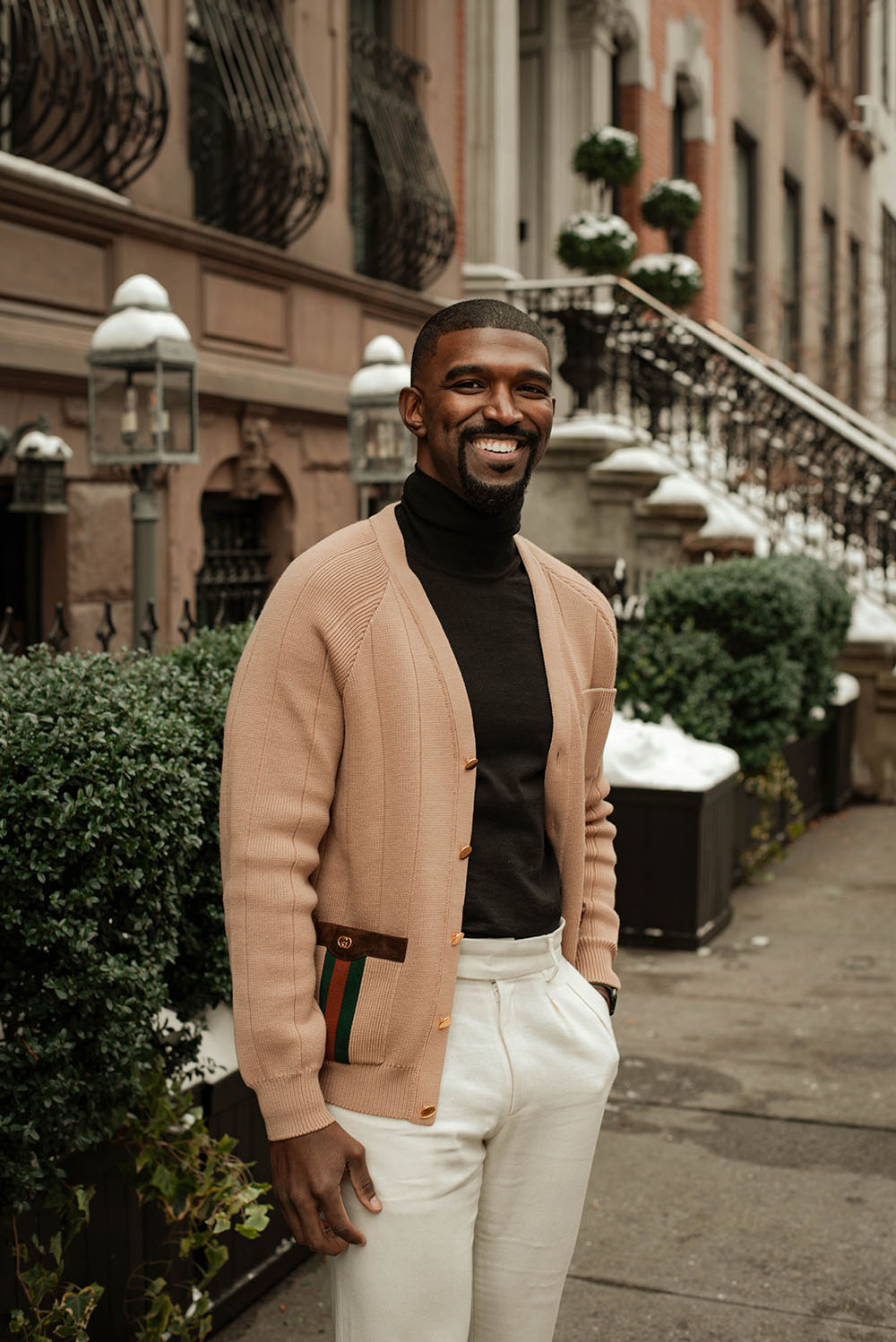 "I moved to New York City with no money and no true job prospects but with a lot of ambition and hope," says Marquelle, who searched for a job by day and camped out on a friend's sofa in a small apartment in Harlem at night. He found a buffet restaurant where he could eat a cheap lunch and squirrel away some leftovers for dinner.
"I ended up reaching out to a connection from LinkedIn who, at the time, was the Senior Vice President of Merchandising for HUGO BOSS. He agreed to sit and meet with me to give me a bit of insight to break into the industry. I ended up getting a job as an Assistant Buyer, and he became my mentor."
Life and the new job weren't always easy. "I had to learn to retail from the corporate side and all of its functions while learning the culture of a new company and new city. I struggled a lot," Marquelle says, "but HUGO BOSS had a culture that encouraged curiosity, and someone was always available to help when I had questions."
A year later, LinkedIn struck again. A contact reached out to Marquelle about a career opportunity in Qatar. "I had never even heard of the country," says Marquelle, who was stuck on staying put in his dream city. But that changed quickly. His mentor suggested that working abroad could provide invaluable experience and make him more marketable after he returned to New York.
In fall 2016, Marquelle moved to Qatar, a small country of approximately 2.7 million people situated on the Persian Gulf, east of Saudi Arabia, north of the United Arab Emirates and south of Kuwait. He set up residence in the capital city of Doha and began serving on the team to open four large luxury department stores, Galeries Lafayette, in Qatar, Kuwait, and Saudi Arabia. His title was Buyer and Commercial Manager for Men's Ready-To-Wear, with responsibility for "helping develop and execute the men's experience."
Working in the Middle East also became a launch pad for Marquelle's travels - from exploring the pyramids of Cairo to shopping the streets of Singapore. And taking in the breathtakingly beautiful scenery of Johannesburg, South Africa, which he calls his favorite overseas city, with an energy that is palpable.
Over the years, he also has traveled to Paris, London, Milan, Florence, Rome, Barcelona, Madrid, Lisbon, Dubai, Kuwait City, and Copenhagen, just to name a few.
Even though he wouldn't trade his time working and learning in the Middle East and traveling overseas, Marquelle still had a longing to return to New York City. And his mentor was right about his ability to become more marketable. Hence, the opportunity with Gucci.
"I feel the most whole when I'm in this environment," he says, even though many meetings these days are virtual because of the pandemic.
He also laughs about how he approached the move to New York this go-around: "This time I saved my money first."
Other than work and working out at his apartment building's gym, Marquelle says he is just enjoying the experience of being back in New York and classifies himself as "completely single."
No matter how far he travels or how far away he is from North Carolina, Marquelle remembers where he came from and the role that FSU has played in his life.
"We are a global community," he says, "and we are authentic in our support of each other."
---
Keeping up with Marquelle
In addition to capturing enviable positions in the fashion industry, Marquelle Turner-Gilchrist has also worked on several independent projects throughout his career, some of which have garnered significant media buzz.
In 2015, he created The New Stereotype (TNS) which highlights and celebrates the many diverse layers of Black life in America through fashion, photography, film, and events. The project was featured in Blavity, Black Enterprise, XO Necole, For Harriet, Essence, Centric TV, Empire Life Magazine, and on the national talk show "The Real" during their "Hot Topics" segment.
Marquelle is currently collaborating on a book about The New Stereotype with Nigerian-American photographer Olushola Bashorun, and is working to publish by year's end. To read more details about the book, visit marquelleturner.com/#/tnsstories/
Marquelle also has been spotlighted in GQ UK, GQ South Africa, American Vogue, British Vogue, FashionBeans, Bevel, and Carolina Style Magazine. BET honored him on their first "30 Under 30" list.
All this comes from the man whose life motto is "Pray, Eat, Style." He explains: "A few years ago, a social media friend of mine, Lauren, commented that I was always posting about God, food, and my style. She said, 'You're like the movie, 'Eat, Pray, Love," but more like 'Pray, Eat, Style.'
"Those words speak to the basis of my life and the things I value and enjoy. I believe in having a solid relationship with God, I love to eat ... and it's important to have an intimate relationship with your style and what you choose to put on your body."
To learn more about Marquelle Turner-Gilchrist and keep up with his adventures, visit his website at marquelleturner.com