Madison Emerick '23
Un-Caped crusader for opportunity; shining example of vision and strength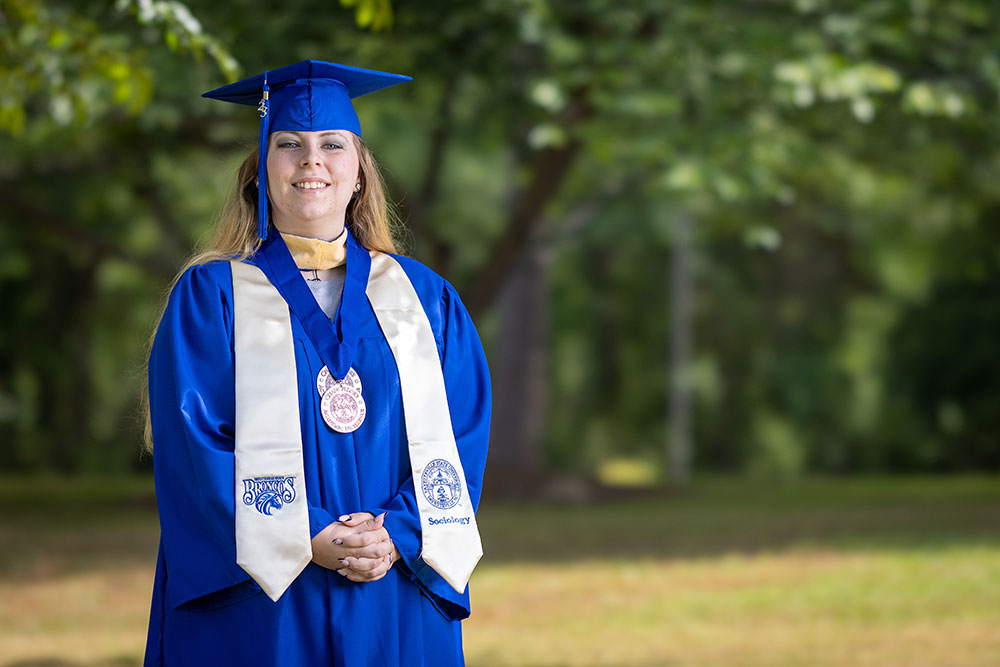 By Hope Baptiste
It's true that not all heroes wear capes, but in the case of Madison J. Emerick, 23, of Clayton, North Carolina, her graduation cap and gown will do just fine. On May 13, 2023, Madison and more than 1,100 of her classmates were conferred undergraduate degrees from Fayetteville State University (FSU) in an historic ceremony.
That's a huge achievement under the best circumstances. For Madison, earning her degree in sociology with a psychology minor magna cum laude and a 3.73 GPA is downright heroic. She even earned multiple Chancellor's List medallions for academic achievement along the way, which requires students to complete at least 15 academic hours during one semester and earn a cumulative GPA of 3.75 or higher with no incomplete grades.
Madison and her younger brother have Autism Spectrum Disorder (ASD), a developmental disability caused by differences in the brain. Diagnosed in elementary school, Madison's condition is exacerbated by an auditory processing disorder, which makes it extremely difficult for her to focus and process information. She had to work twice as hard as her peers to keep up in elementary, middle and high school. But Madison knew she could do the work and independently found new tools and strategies to help her absorb information and improve her learning skills.
A lot of people — including many educators in her schools — didn't think Madison could earn a college degree, so she wasn't encouraged to sit for standardized tests such as the ACT or SAT. That precluded her from the traditional college search and application process. But Madison had goals and she knew that she needed a post-secondary education to reach them.
Undeterred, Madison, with help and support from her mom, Angie, pressed ahead and enrolled in Johnston Community College (JCC). Though it would take her three years, Madison earned three associate degrees: general education, pre-science and pre-liberal arts.
"Even though I struggled, I was motivated to learn because I really want to help other kids like me who are smart, but face challenges like ASD," Madison said. "I understand what they're going through, and I can be that example for them that shows if you put your mind to something and do the work, you can achieve your goals."
After JCC, Madison had very specific criteria for her college choice: it had to be accessible and affordable, it had to have the programs she was looking for in sociology and psychology, and it had to have online degree programs. Because Madison also suffers from general anxiety disorder, being around a lot of people could be paralyzing for her. Online classes were crucial. FSU was the perfect fit. Madison transferred to FSU and never looked back.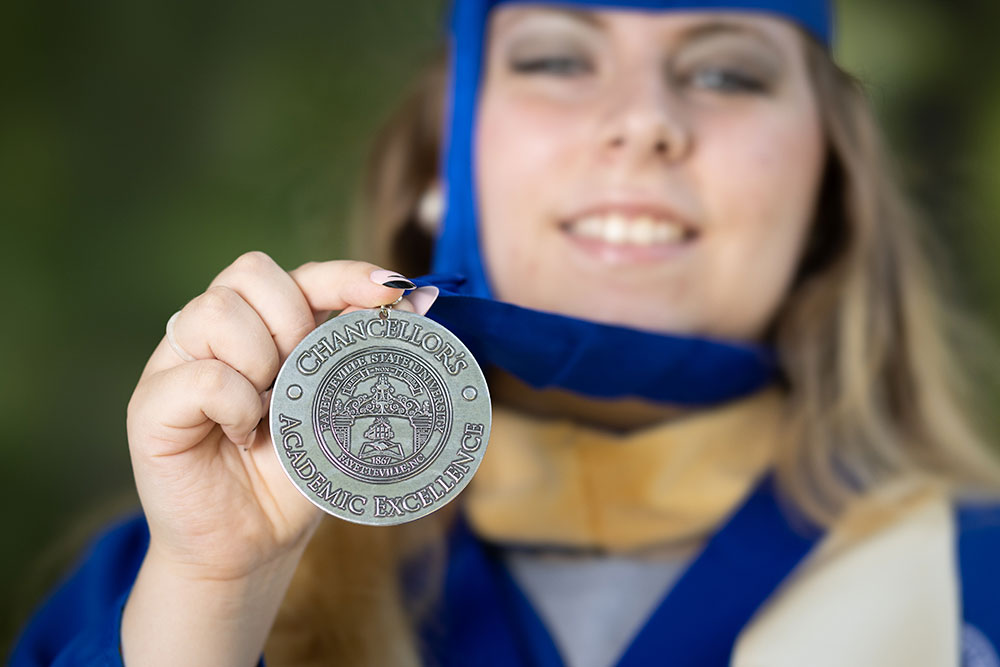 "I knew Madison was smart and I never treated her any differently," Angie said. "She always had the drive and the desire to keep moving forward, but I don't think I truly realized just how smart she was until she enrolled at FSU. She found the support, the guidance, the resources and the environment she needed to get her degree, and we couldn't be more grateful for her experience. She so deserves this moment and more."
Still, it wasn't easy. Angie experienced some significant health issues throughout Madison's academic career, and Madison cared for her mom along with being a full-time student. There was a period when Angie was in the hospital for an extended time, and though they couldn't visit in person because of COVID and other risk factors, Madison would take the family dog in a stroller and push her around outside her mom's hospital window to cheer her up and keep her from being alone. Even with all of that, Madison never took a break from her education.
"I am so grateful for her and for her online program at FSU," Angie said. "I really don't know how she managed it sometimes, and I never wanted to stand in her way. She truly is my hero in so many ways. I'm so proud of all she's learned and accomplished for herself; I can't wait to see what she does next."
Madison said that goes double for her. "My mom has always been there for me, supporting me, encouraging me, advocating for me and believing in me," she said. "I know I couldn't have gotten here without her. My graduation is as much a celebration for her and our family as it is for me; I wouldn't have it any other way."
What's next for Madison? Time will tell, but she said she definitely wants to work with disabled children, perhaps in a TEACCH (Treatment and Education of Autistic and Related Communication Handicapped Children) situation or adaptive learning environment.
Wherever her path leads her, Madison is sure of at least two things: she did not choose her disability and she will not accept its limitations. "There are always going to be storms in life, and I've found the best way to get through them is to stick to who you are and believe in yourself," she said. "Don't let other people label you or decide you can't achieve your goals. It's not their decision, so prove them wrong. If I can do it, anyone can."