SPC Rodgers Otieno '19
From Kenya to FSU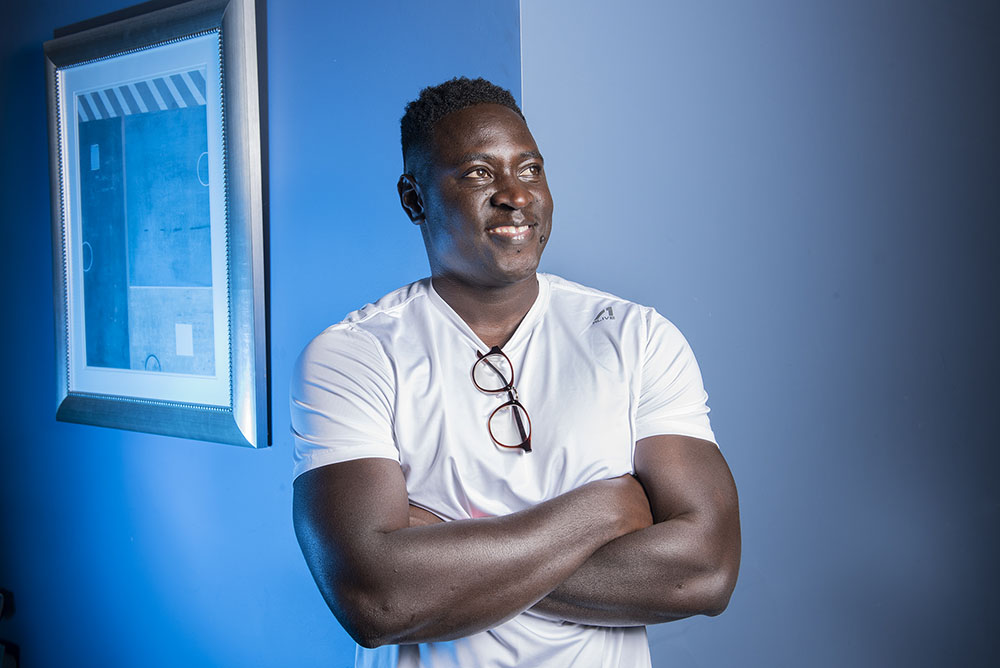 SPC Rodgers Otieno Photo by Cindy Burnham
Not only does SPC Rodgers Otieno bear a striking resemblance to actor Idris Elba, but he also has a story worthy of a Hollywood movie.
Title it "From Kenya to FSU."

Add to the journey his service in the U.S. Army - and a prowess for soccer, to boot.
His story begins in small-town Oyugis, Kenya, where he was born on May 7, 1989. The middle child of six, he was in the esteemed position as the first male born to a police officer and homemaker. His father, who played soccer for a police league, taught him the sport. The father's job took the family to many locations in the country, and Rodgers ended up attending 11 schools. He excelled - in his studies and soccer.
Just before taking his final exams in high school - tests that would determine if he was eligible for college - Rodgers would receive tragic news. His father, only in his 40s, died of diabetes complications.Harambee is what helped save him, Rodgers says. It's the concept of a community coming together to help one of their own. The cause was his college education.
The townspeople were able to raise enough for Rodgers to attend a nearby university, where he studied English literature for a year. "That was my first miracle," he says. "Then my second miracle happened."
A coach from Oklahoma Christian University who was visiting his native Kenya spotted Rodgers playing a pick-up game of soccer in the village. In a whirlwind move, Rodgers was transported to America, playing soccer for the university and on his way to earning his bachelor's degree in psychology - on a full scholarship.After graduation, he joined the U.S. Army under a program that would enable him to utilize his language skills (he speaks Swahili and British English). Upon completion of basic training in Fort Sill, Okla., he landed at Fort Liberty in 2015.
"I'm not one to waste any time," he says. "I enrolled in an introduction to social work class at FSU's Fort Liberty campus."
Rodgers hungered to continue his education and took more classes at FSU's main campus, earning his Master of Social Work degree in May 2019. Now he is on-track to receive two graduate certificates, in substance abuse and military behavioral health. He works as a substance abuse counselor at Womack Army Medical Center.
"The FSU programs are geared toward your needs and military-friendly," Rodgers says.
"There are so many great professors," he says. They have brought him out of his shell, encouraged him to speak his truth, question and continue on his educational journey. He gives special credit to Dr. Dennis Corbin, Dr. Quienton Nichols and Dr. Tanisha James. "I'm better able to experience myself, to articulate myself," he says.Flexible schedules and professors are essential for all that Rodgers has to juggle. A husband and father to a young son and daughter, ages 1 and 3, Rodgers arises at 4 a.m., does his required physical training, goes to the gym, opens the clinic at his full-time job and works all day, then classes at FSU, time with family, and he doesn't stop until after he burns the midnight oil - hitting the books.
His next plan is to get accepted into Officer Candidate School in the military.
As for soccer, it's still an important part of his life, too. He was chosen for the 2017 All Army Soccer Team camp and has played in several tournaments for the Fort Liberty soccer team. He dedicates every game to his late father.
"My whole life, everything has fallen into sequence," he says. "God always has a plan out there."Rodgers adds that he's also discovered Harambee is alive and well in the U.S. - and especially on the FSU campus. "The people are so friendly," he says. "They are accepting, and they really care."
---
FSU is changing lives.
We can change yours, too.
---
Story by Janet Gibson. Photography by Cindy Burnham. Graphic Design by Mariano Santillan.