LaShea M. Shipp Selected to Serve as Chancellor for a Day February 14, 2018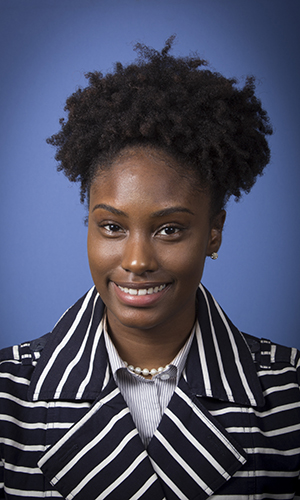 LaShea M. Shipp is a junior majoring in Accounting/Banking Finance. She is President of the Accounting Society and President of the National Association for Black Accountants at FSU. She is also a member of Bronco Women, the National Council for Negro Women, the FSU Honors Club, and a Student Government Association volunteer. LaShea serves as a MBA program assistant and was a student ambassador for the Thurgood Marshall Leadership Institute.

As a Freshman, she attended her first national conference, and learned the value of networking with professionals in the field. She values the knowledge gained from participating in seminars, recruitment fairs, and internships, all of which she feels is essential preparation for career success. She also plans to obtain an MBA degree.

LaShea serves as a mentor for the Queen in Me Mentoring Program; as a tutor at West Mecklenburg High School; and has assisted with feeding the homeless programs. As a Peer Coach for FSU Career Services, she is reaching back to help students prepare for post-graduation success. LaShea feels that "Serving as Chancellor for a Day would be my way of making my HBCU and my family proud, while being a direct voice for the students."