Elie Bracy IV, '22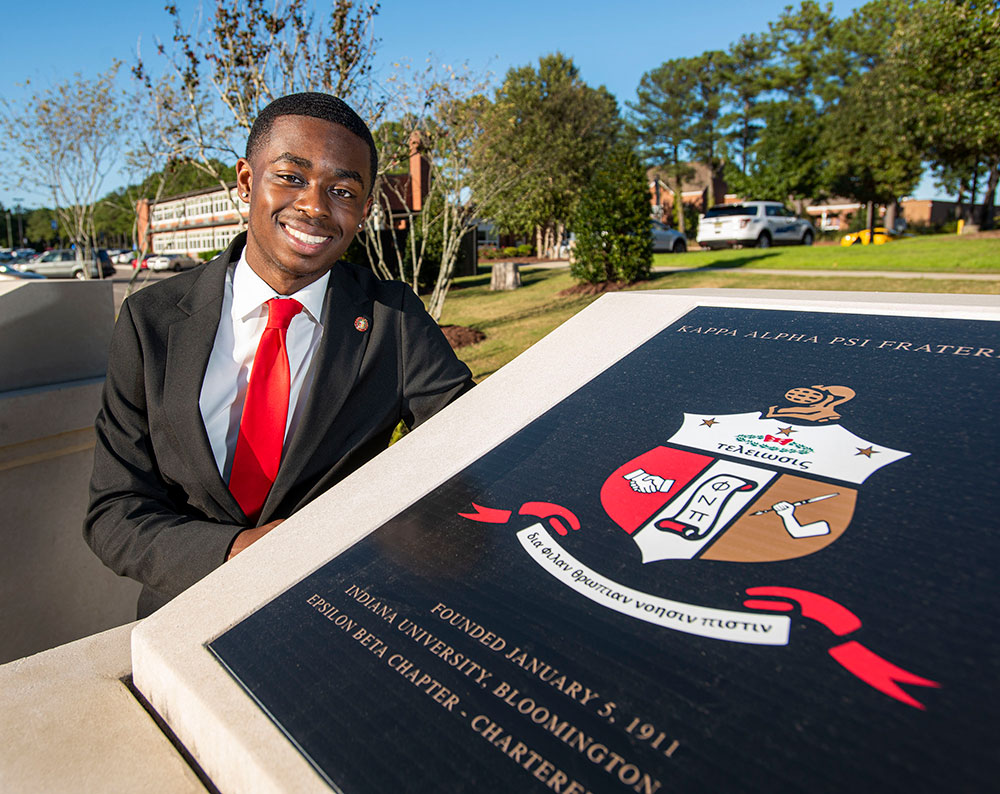 Elie Bracy, IV accepts prestigious appointment with Kappa Alpha Psi Fraternity, Inc.
By Janet Gibson / Photography by Cindy Burnham
---
An emerging leader at Fayetteville State University - and beyond - Elie Bracy, IV's story begins in the small town of Weldon in northeastern North Carolina, where he was born 21 years ago.
At age 15, his family moved to Portsmouth, Virginia, which opened a new world for him. He started playing golf and fell in love with the game. Against all odds for such a young player in the sport, Elie (pronounced Eli) earned a golf scholarship at a nearby university. But something kept bringing him back to the idea of attending Fayetteville State, the alma mater for several of his family members, including his paternal grandparents, the late Elizabeth Bracy and Elie Bracy, Jr., who graduated in '57 and '60, respectively.
Elie transferred to Fayetteville State in his sophomore year. Now a senior honor student, he calls FSU "one of the greatest choices of my life." And FSU Broncos are glad that Elie chose them, too.
Dr. Juanette Council, Vice Chancellor for Student Affairs, describes Elie as "a rising star."
Elie was recently nominated for and accepted an appointment to serve as an undergraduate board member for the Middle Eastern Province of Kappa Alpha Psi Fraternity Incorporated. The Middle Eastern Province governs a wide range of undergraduate and alumni chapters throughout North Carolina and southern West Virginia, according to a press release.
Elie is a spring 2020 initiate of the Epsilon Beta Chapter of Kappa Alpha Psi Fraternity Inc. He also serves as the vice polemarch to assist with leading and guiding its members. In addition, he is active on the Middle Eastern Province Membership Training Academy (MTA) Committee, and he was nominated to contribute to the International Headquarters Code of Conduct Committee.
"Being a part of Kappa Alpha Psi Fraternity Inc. has been a life-changing event for me," he says. "It has given me an extended family of brothers near and far who share a common bond. I look forward to assisting the Middle Eastern Province Board in providing leadership and guidance for our undergraduate members."
He adds that it's an honor to be recognized by his peers (undergraduate and alumni) who feel he is worthy of the appointment. In his new role, he will assist in the planning and implementation of provincial (regional) activities, including training and governance, and serve as a liaison for the province as directed by the province polemarch.
Elie is majoring in health and physical education with a concentration in sports management. In addition to his Greek involvement, he is making a difference in a number of organizations and activities. He serves on the Student Government Elections Committee and volunteers with the American Cancer Society Relay for Life, Mile High Kids Organization, and Uzuri Community Foundation, to name a few.
"It's a vibe where great energy flows," he says about Fayetteville State. "People are outgoing and family-oriented."
Elie's goal is to become an educator and, ultimately, a school administrator, which would mean following in the footsteps of his father, Elie, III, who is superintendent of Portsmouth Public Schools and also pledged Kappa Alpha Psi while attending Kentucky State University. His mom, Kimberly, works in public relations. Elie's older sister is an educator, and a younger brother attends North Carolina A & T State University.
Elie says he has been greatly influenced by his parents and grandparents who taught him that "being a leader means making sacrifices, being organized, responsible, and part of a team."
He adds that his grandparents, in particular, "poured a lot of wisdom into me."
"It sounds simple but they made me believe that anything you set your mind to, you can achieve. You can conquer anything."