Dancing in the Rain!
For FSU SGA President, Sydney Harris '22, and WSSU SGA President, Je'den Clark '21, dancing in the rain is a perfect metaphor for leading during a global pandemic.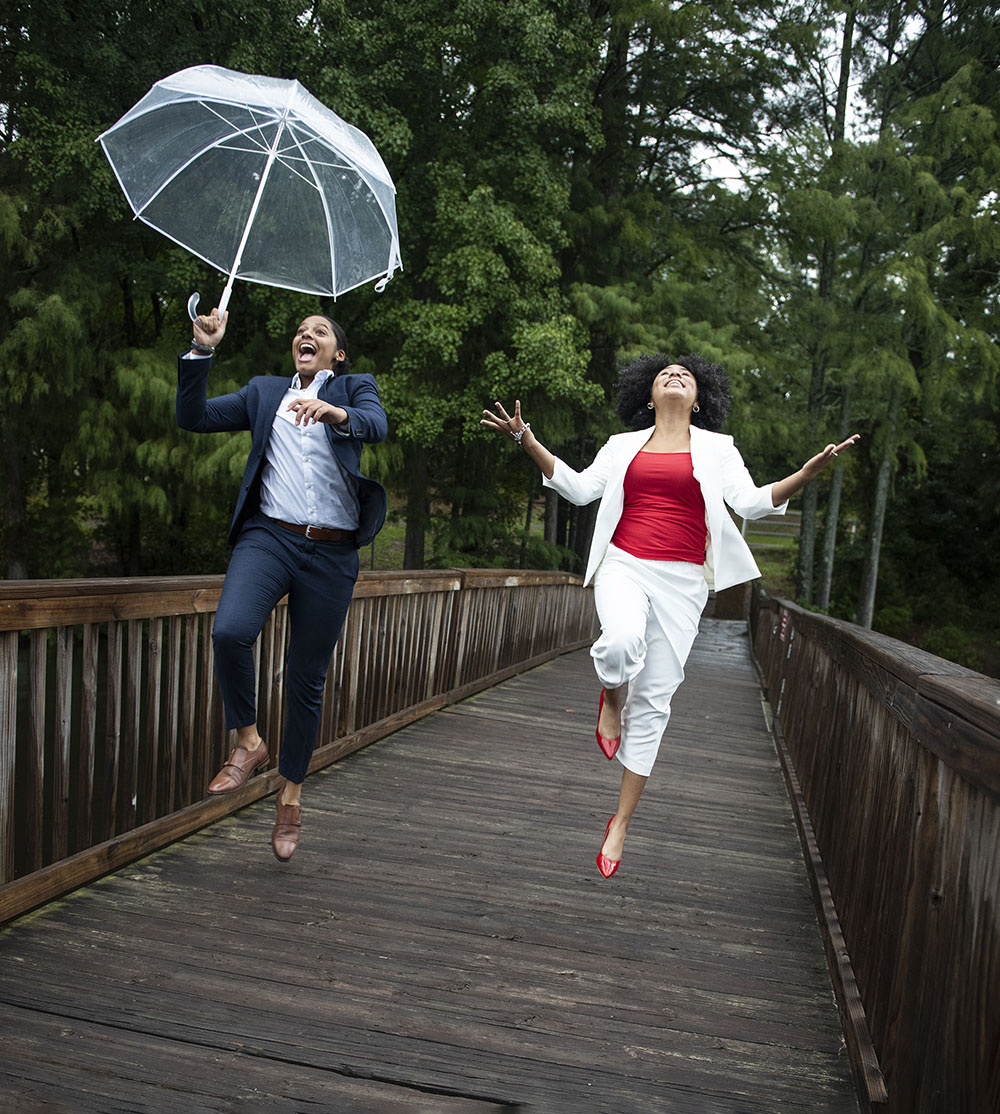 Article by Janet Gibson / Photography by Cindy Burnham
This is a Tale of Two Sisters.
But, they aren't related by blood. Rather, they are best friends who are always there for each other - cheering, counseling, consoling or communicating without having to say a word. Besides, everyone who sees them together thinks that they are sisters. So, there. Perception is everything. No form of correction is necessary.
In the world of HBCUs, the two also are powerful women to watch. Sydney Harris serves as the President of the Student Government Association at Fayetteville State University. Je'den Clark was elected to the same office at FSU's arguably biggest rival, Winston-Salem State University.
Sydney, 20, is a junior majoring in Communications with a minor in Africana Studies. Je'den, a 21-year-old senior, is majoring in Mass Communications with a minor in Justice Studies. Both are Honors students who are out to make a difference, and who knows, maybe even change the world.
The pair met while students at E.E. Smith High School in Fayetteville. Je'den was a sophomore cheerleader who was struck by the prowess and grace of freshman Sydney on the girls' basketball team. They began a conversation, and the connection was immediate.
They are still talking and learning from one another. Both decided to run for SGA President at their respective schools during the same time. Both also pushed the other to stay the course and believe in their abilities to capture a position that is often held by a male.
On a recent Friday afternoon, Sydney and Je'den met at one of their favorite spots in Fayetteville - the tranquil lake tucked behind Mazarick Park. Their mission: to catch up, compare notes about responsibilities to their fellow students, and perhaps, bounce ideas off each other.
The clouds broke open, and a downpour ensued, which might have discouraged those with less determination. But business had to be done, including a photo shoot. Somehow the vision of the best friends together strikes us as a metaphor for making the most of life in 2020 ... smiling, laughing and dancing in the rain while sharing a crystal-clear umbrella.
Both admit that they never could have imagined how their SGA presidencies would be shaped by a global pandemic. "Students have a lot of questions," says Sydney. Je'den agrees. Issues about openings, closings, postponements and procedures often rule the day.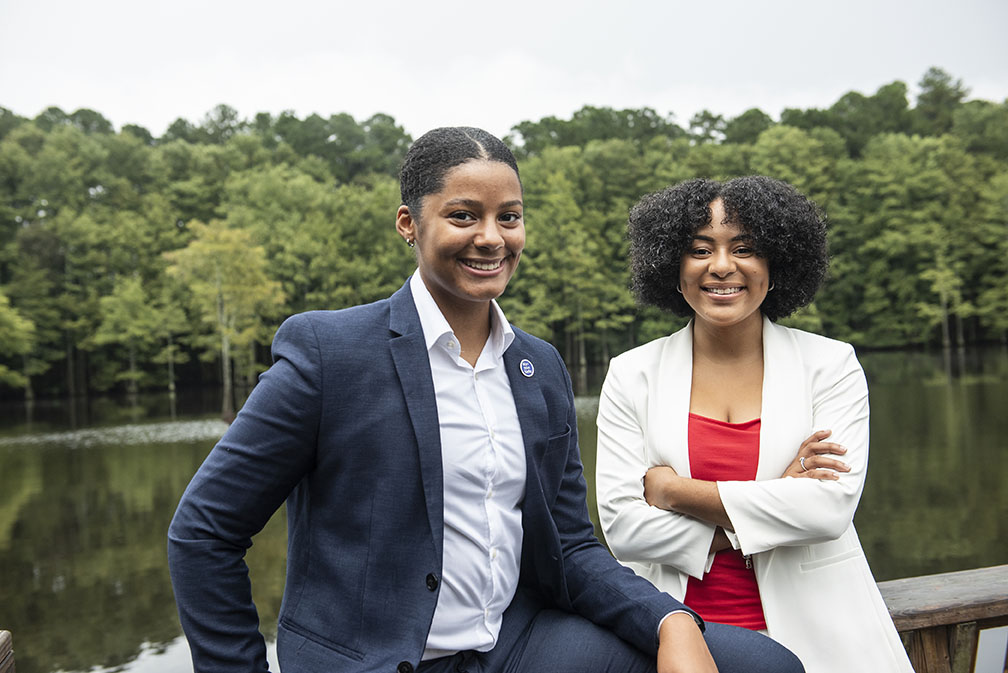 During the visit, they were mirror images of each other - models of calm, cool and collected - answering calls and texts in between being interviewed for this story. At one point, Je'den excused herself for a few minutes to take a Zoom meeting.
Both emphasize the importance of communicating effectively with students and quick follow-up. In a letter to her fellow students, Je'den writes about transparency and the winds of change: "Having 'A Seat at HER Table' means more than just having a female as your SGA President, but it means every minority group represented on this campus gets to have a voice that's not only maximized, but projected."
Sydney says the responsibility of the office has taught her the invaluable skill of "putting my foot down." Previously, she might have been convinced to agree to something when she wasn't 100 percent convinced that it was right. Not anymore. She speaks up.
"True leadership," she says, "means being able to create a vision of impact and getting others to believe in that vision. Not for reward or compensation, but for the genuine desire of success for all constituents."
Je'den also believes in the power of leadership - backed with pureness of purpose.
"Leadership is more than a duty or responsibility, but it's a way of life and a part of one's character," she says. "It's servant leadership ...despite whether others are watching or giving recognition. It's a natural longing to serve your community in the best way."
Both young women watched with interest at the recent national election. "The Biden/Harris win is a revolutionary change, especially for our generation," says Sydney. "It showed us the power of voting and unity."
The fact resonates with Sydney and Je'den that Senator Kamala Harris has made history by becoming the first woman, and the first Black woman and woman of Asian descent, to win the office of Vice President of the United States. Harris also is the first to have graduated from an HBCU (Howard University, 1986).
"This moment in history," Je'den says, "will impact generations of young girls to know what is possible."
Although neither Sydney nor Je'den desires a career in politics, they are focused on making their mark. Both plan to continue their education. Je'den aims to study film in graduate school at Howard University. She wants to author children's books - centered on themes of Black pride, history and self-confidence - and then produce a web series based on the stories. Sydney has eyes on becoming a professor before age 30, so she will be pursuing advanced degrees. Her long-term goal is to build a charter school.
One thing's for certain: No matter where life takes them, miles won't stand in the way of their connection and communication. "We have no secrets," they say in unison.