The Future Is Bright
Meet the husband-and-wife team with a passion for creating art and earth-friendly clothing.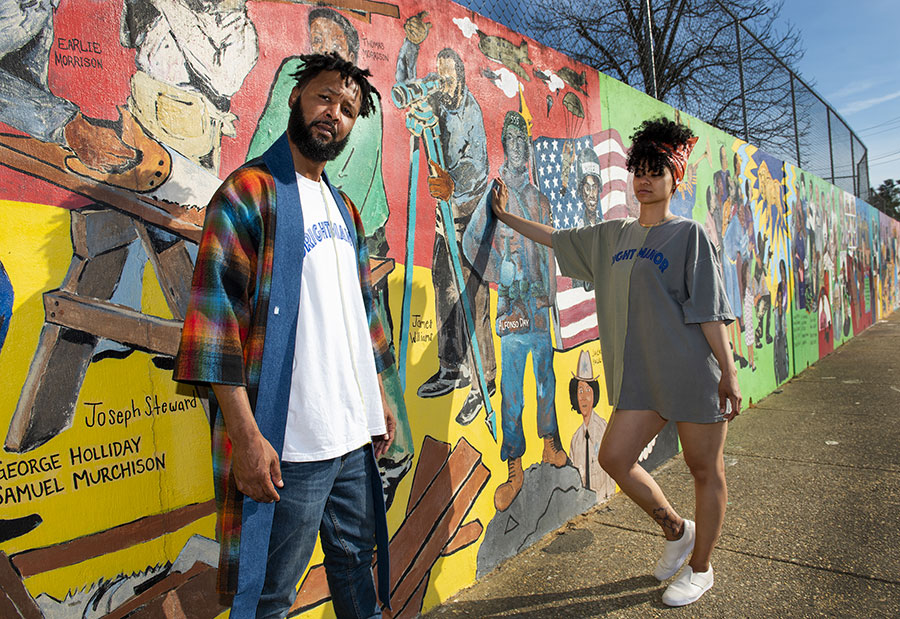 By Janet Gibson / Photography by Cindy Burnham
---
On a recent Friday morning, when the sun is casting a golden glow on the campus of Fayetteville State, Daryl Bright (Class of 2008) and his wife, Nieka, are captivated by the vivid Langdon Street mural which highlights community change-makers and also serves as a gateway to the university.
The couple stand in awe as they point to particular images - people who they know - or have heard stories about while growing up in Fayetteville.
It's an interesting juxtaposition. The Brights have amassed a collection of their own art photography of murals and graffiti taken around the world. More recently, and during the pandemic, they have stayed closer to their latest home base in Oakland, California. Yet, a fascination with capturing street art barely scratches the surface of how this multitalented couple takes originality to "bright" new heights.
As reflected on their website, brightmanor.shop/, their portfolio also includes travel writing, mixtapes, sticker art, and photography of their skateboarding bulldog. Notably, Daryl and Nieka (pronounced NIGH-EE-kuh) are most visible when modeling their Bright Manor line of contemporary unisex clothing in locales as diverse as the desert outside of Vegas to the streets of Silicon Valley. From hip-hop culture to Afrocentric themes and Asian-inspired silhouettes, their design aesthetic is one that they describe as bordering on "chaotic minimalism."
Bright Manor has no other employees, no factories, and no retail stores. Only Daryl and Nieka. Hand-crafting every garment with painstaking detail - and each piece a testament to originality, durability and affordability.
Sales are online through their site. Several of the orders are placed by alumni of Fayetteville State, including teammates from his days as a standout football player for the Broncos.
For Daryl, this particular day at FSU is a trip down Memory Lane. He and Nieka, who also is from Fayetteville, are in town for a surprise 60th birthday party for Daryl's mother, Priscilla Cole Sanders. They have also taken the opportunity to visit campus to reconnect with friends and for this story's photo shoot. The mural and a nearby Bronco statue just happen to be perfect backdrops for their designs. It's also fitting that they have returned to the town where their creativity and work ethic were shaped.
Daryl reminisces about learning his sewing skills at the side of his grandmother, Dorothy Cole, a well-known Fayetteville seamstress who worked at the old Kings Point Manufacturing Company downtown when he was a boy. His grandmother also put him to work, ironing choir robe cuffs at her shop, Cole's Tailoring.
Long together and long married, Daryl and Nieka's love story began when they met at Seventy-First High School, where he played quarterback and graduated in 1999; she in 2002. Daryl went on to attend Fayetteville State, where he received a Bachelor's degree in Sociology, and Nieka earned two Bachelor's degrees from UNC-CH, in Exercise and Sport Science and African, African American and Diaspora Studies.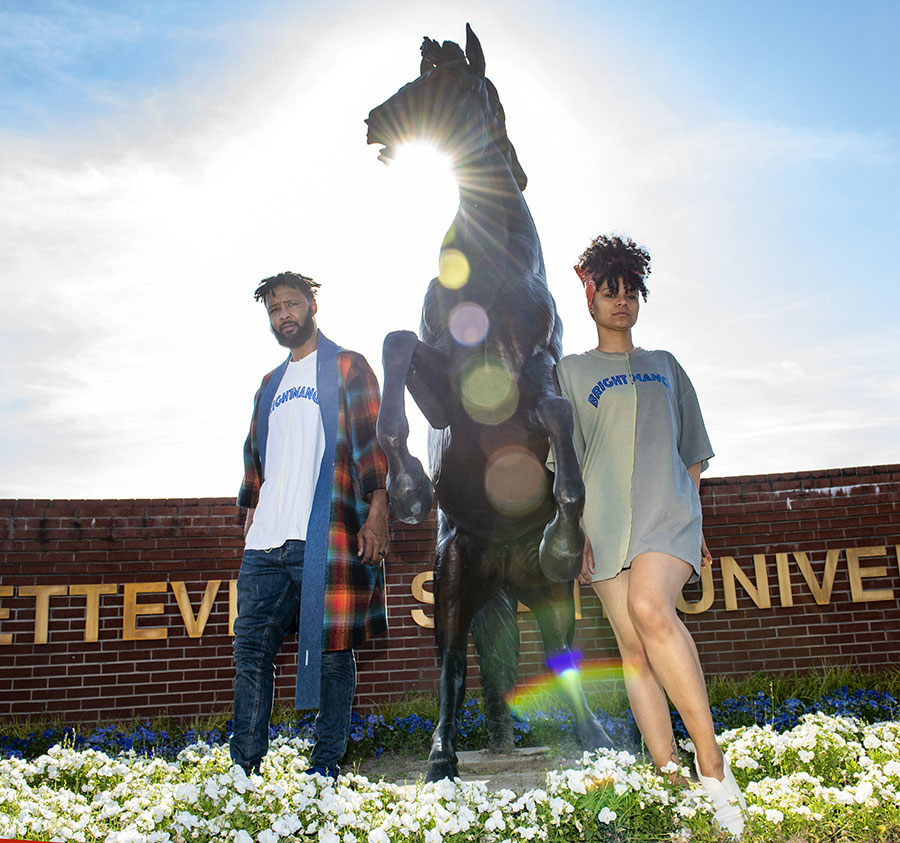 Their next stop was Philly to pursue graduate degrees. (Daryl, Master's in Global Fashion Enterprise from Philadelphia University, now Jefferson; Nieka, both Bachelor's and Master's in Kinesiology and a Doctorate of Philosophy in Kinesiology, all from Temple University).
Over Christmas 2010, while living in Philadelphia, Daryl bought a sewing machine for Nieka and the two began constructing clothing. You know what they say? If you can't find what you like, make your own ...
The Brights use all-natural and environmentally friendly fabrics, from cotton to wool to bamboo. "I love color," Daryl says. "The color palette of nature, exotic birds, fish, animals and skies."
For the Fayetteville photo shoot, he is wearing a jacket with a shawl collar that combines flannel and denim, with well-worn jeans. Her shirt in a hue dubbed "sandstone gray" and has their signature "sour apple serge stitch." Details make all the difference. The price points are moderate: $30 to $65 for T-shirts; kimonos and jackets starting at $175; most suits in the $200 to $300 range.
"We hope to become a staple to a bridge of clients wanting to invest in the creation of tailored garments, a personalized education and dope designs," says Daryl, who describes himself as an "adventure capitalist."
Nieka adds, "We practice slow fashion, coupled with conscious design customized for conscious consumers, thereby bringing about conscious change in the industry and beyond."
The couple balance their clothing design business with their day jobs, him as a grants manager for a YMCA Head Start program and her as director of client services for a private tutoring agency.
What's next for the designing duo?
Asia appeals to them, particularly Thailand. The fashion, food, architecture ... everything about the Asian way of life. But only time will tell. In the meantime, the Brights say they will keep creating clothing in "an effort to spread love, foster thought and keep you fly."
For more information on Daryl and Nieka Bright, their clothing designs and other artistic projects, visit brightmanor.shop